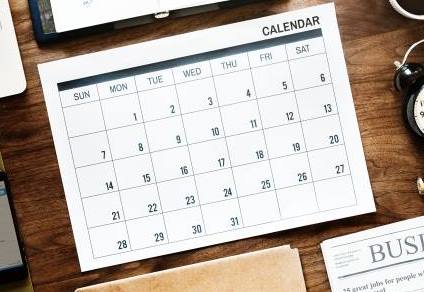 Installment Loans: a Comprehensive Guide
What Is An Installment Loan?
Installment loans
are not new: they have been around in one form or another for quite a long time—maybe longer than you realize! Some of the earliest types of consumer credit in the United States were installment loans. Around 1850, the first installment loans were provided by the Singer Company for financing the purchase of sewing machines. The plan was simple: a dollar down, a dollar a week. Installment loans are a lot more sophisticated now, with complex loan and term options and dozens of lenders clamoring for your dollar (and a lot more).
Types of Loans
There are roughly
several types of loans
in the world of borrowing, based on how they are computed:
Installment loans
Non-installment
Revolving credit lines.
| | | |
| --- | --- | --- |
| Credit | Explanation | Example |
| Installment | One time credit approval that does not extend beyond a specific dollar amount | Car, home or student loan. |
| Non-installment | Repayment required within a short period of time. | 30, 60, 90 days same as cash |
| Revolving Credit | Once charges are paid, the amount is available for additional purchases. | Credit Card |
Simply put, installment loans are for a specific amount of money, to be repaid over time with a fixed number of scheduled payments. The term of an installment loan can be for as short as two months and for as long as 30 years (or more). The most common type of installment loan is a home mortgage, but car loans and educational loans are also good examples. Credit cards are revolving credit lines, as are home equity lines of credit.
Difference Between Installment Loans and Revolving Lines of Credit
A significant difference between installment loans and revolving lines of credit—from the customer's point of view—is the nature of
the amount
being borrowed and the
interest rate
being charged.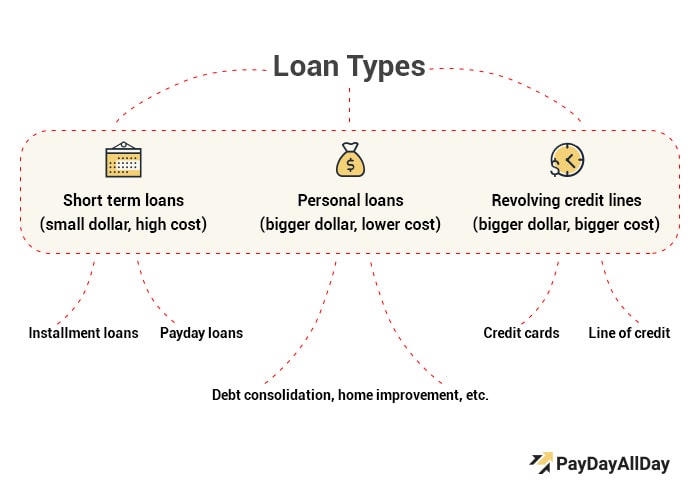 One of the most important differences between installment loans and credit lines is that with an installment loan your payments will be set and they will not vary as the loan term moves through time. In case of a line of credit, the monthly payment will vary depending on the amount of the total that has been withdrawn. Simply put: the more you take out, the more you pay each month.
So, What to Choose?
When you need to borrow a lump sum of money, like when you buy a car, you will want to take out an installment loan. Why? Because the interest rate will be lower than a revolving line of credit for a fixed amount, you are paying off over time. Revolving credit lines are generally for fluctuating amounts, like when you are remodeling your home.
What Will I Need to Apply For an Installment Loan?
A potential lender will want to get as in-depth a view as possible to assess your viability to pay back an installment loan. They will want to see and understand the following items as part of their underwriting analysis:
Your credit score
Your annual income
Your debt-to-income ratio (lenders use this formula to see how much you can afford to borrow)
Most lenders follow the same basic guidelines, with more specific qualifications being dependent on the lender and the loan.
Basic Requirements for Installment Loans
The following shows the necessary requirements needed for installment loans:
| | |
| --- | --- |
| Criteria | Requirements |
| Age | You must be at least 18 years old |
| Residence | You must live in the state where you want to take out the loan |
| Employment | You must be able to prove you have a steady source of income or job |
| Social Security Number | You must have a valid social security number (or taxpayer identification number) |
| Bankruptcy | You cannot be a debtor in bankruptcy or about to file for bankruptcy |
| Other Accounts | You may be required to have an active checking account |
Where Best to get an Installment Loan?
An excellent place to begin shopping for an installment loan is with your local bank or credit union, where you already have a relationship. A face-to-face relationship with an actual person at the bank is not old-fashioned—it can still count for a lot if your credit is less than stellar and you need access to the money fast. It's important to keep up a positive presence with the staff at the bank you use most often for those times you need help. Applying for,
and getting installment loans online
has gotten much simpler and more reliable in the last decade or so, thanks to the rise of P2P (peer-to-peer) lending and several higher quality, reputable P2P online lending options, such as Lending Club and Prosper.
How Much Will I be Able to Borrow?
Some online lenders allow you to borrow up to $40K. Rates range from 6.16 to 35.89% APR, and they do not have any prepayment fees or penalties. You can quickly check your rate here to
see what a potential loan might cost you.
Do note, however: they charge a one-time origination fee when you first take out your loan. Their APR calculation includes this fee. For example, Lending Club will ask you what you plan to use your loan for, but as it is a personal loan, the borrower is free to use the loan for whatever needs arise. Online lender SOFI offers installment loans for specific purposes, such as mortgages, educational expenses like student loans, and for personal loans (which do not require a stated purpose).
TIP:
checking your interest rate on some lending platforms is a "soft pull" on your credit and will
not
impact your credit score. Other similar online lenders include:
PersonalLoans.com
Avant
Prosper
SOFI
Credit card companies are also getting in the business of providing installment loans. American Express offers a variety of personal loan options, including installment loans.
Loan Shopping Tips
Best Rates
The bank or credit union where you currently do your banking, and may also already have an established checking or savings account showing several months of responsible transactions, may offer discounts on your interest rate for being an existing customer.
What do You Need to Watch out for when Taking out an Installment Loan?
Unnecessary products – Unethical lenders will try to sell you unnecessary products that provide little or no benefit to you but put lots of money in the pockets of the lender.
Voluntary Insurance – a common add-on product is installment loan insurance. Insurance products, when added on to your loan, could as much as double your loan's annual percentage rate (APR). Allegedly, employees of a one unethical lending company were instructed not to tell customers the insurance is voluntary. The insurance premiums (monthly payments) are financed as part of the loan with all the insurance costs added in, effectively making a loan with a 90% APR more than 140%! The lender is making a commission on the insurance and interest on the financed premium.
Security and Privacy – be aware of the security and privacy of your online information when applying online (or at a brick-and-mortar financial institution). Security and privacy policies should be stated up front as part of your loan application process.
Unnecessary Add-on Products – these take a safe, responsible way to pay down debt and turn it into a form of "credit card" with exorbitant rates, sometimes as high as 200%. For a cautionary tale of an example of an installment loan with skyrocketing rates, see ProPublica's review of installment loans.
Pros and Cons of Installment Loans
| | |
| --- | --- |
| PROS | CONS |
| A safe way to pay down debt when managed responsibly and well | Installment loans can be deceptively expensive |
| An installment loan can benefit your credit score if payments are made on time and lender reports your payment history. | Promoted as safe and a consumer-friendly alternative to payday loans. |
| May diversify your overall mix of types of credit | Add-on insurance or other products make an installment loan exorbitantly expensive |
How Soon Is an Installment Loan Approved?
Some banks and credit unions take approximately a few minutes online to process an application, but it can take up to two or three business days at the branch to get an answer. Online lender SOFI claims they will quote an interest rate in only two minutes. Most online lenders will process loan applications within minutes or hours.
How to Find The Best Installment Loan?
Every potential loan and lender is different from the others; often in small, but significant ways. When looking around and doing your comparison shopping for the best installment loan, you need to evaluate:
The interest rate on loan (as expressed as a yearly percentage, or APR)
How much time you have to pay the loan off
The number and frequency of repayments
How quickly you will receive the money, especially if needed right away
Additional fees, charges or restrictions on your loan
Impact of Installment Loans on Credit Score?
An installment loan can
benefit your credit score
in two crucial ways:
It can positively affect your payment history IF you make monthly payments on time or before the due date
It can diversify your credit mix, IF it adds a different type of credit to the mix, you already have on your credit report, and that can positively affect your score
However, an installment loan can also
hurt your credit score
, in two crucial ways:
It can negatively affect your payment history if you don't make your payments on time
It can negatively affect the balances owed category because you're taking on more debt, so the amount of money you owe to third parties is increased
Taking these potential risks into the account is therefore necessary. The best way to this is to take a pen and calculate how much money you will have to pay monthly and for how long. For example, the table below could help you understand what would be your regular installment payment per month for different amounts.
| | | | |
| --- | --- | --- | --- |
| Loan Amount, $ | Regular Installment Payment, $ | Number of Payments | APR (bi-weekly payments) |
| 125.00 | 24.79 | 7 | 232.55% |
| 625.00 | 106.79 | 7 | 121.86% |
| 1,400.00 | 231.14 | 7 | 97.61% |
| 2,000.00 | 328.00 | 7 | 92.94% |
Tips and Tricks to Using Installment Loans to Your Advantage
Pay your loan off more in the beginning, whenever possible (decrease the overall interest paid). Make sure you do not have to pay fees for paying off a loan early.
Invest in yourself (like paying for a class for a new job skill), or purchase a tangible asset that increases in value rather than depreciates (a home versus a fancy car that loses value once it is driven off the car sales lot) and watch the value of your money "grow" and of good use way into the future.
You can check to see what kind of interest rate you will get by using the online P2P rate calculators for free and without obligation.
Variable rate installment loans often offer lower rates at the beginning of the loan, sometimes called a "teaser rate," which can rise steeply after a certain period of time. If you feel very confident or entirely sure that you will repay your loan before it is due (and NOT have to renew it), or if you opt for a very short repayment period, a variable rate could be more advantageous than a fixed rate.
An Installment Loan Checklist
Finally, read the fine print of each potential installment loan carefully so that you're fully aware of all the costs associated with it, what could happen if you default or need to renew, and whether there are any penalties for paying it off early, among other things.
Avoid pushy tactics and immediately recognize and say no to aggressive or bullying on the part of a potential lender
Watch out for unnecessary fees, charges and/or services. Make sure that the APR calculation actually includes all fees and charges for the loan.
Consider any add-ons carefully, like insurance. You have a right to turn down any voluntary insurance plans your lender tries to tack on to your loan.
Borrow only what you need, and no more, and try to establish that you can repay it without having to renew the loan
Try for the shortest term possible, with the best terms possible for your situation
Know before signing if your loan has a fixed interest or a variable rate
Pay attention to the security and privacy policy for your information when applying for a loan
Check the Terms and Conditions of the loan before signing. If you are unsure of a term and/or any part of the agreement, do not sign it.
Customer Notice
We strive to provide accurate information regarding personal finance and debt management, but it may not apply to an individual's situation directly. This content is for informational purposes only and should not be considered as financial advice. PayDayAllDay.com won't bear any responsibility in relation to personal decisions made based on it. You should consult your financial or tax advisor before making any financial decisions.

Alice was born and raised in Compton, California. Then she studied at Yuin University, the place where she became passionate about researching the thin ropes between money and meaning. She is insatiably interested in people's potential, wondering why some succeed and others don't. Thus, the articles on her blog explore a multitude of seemingly unconnected things: money, psychology, entrepreneurship, creativity, spirituality, philanthropy, just to name a few.
Help & Support
Legal Information