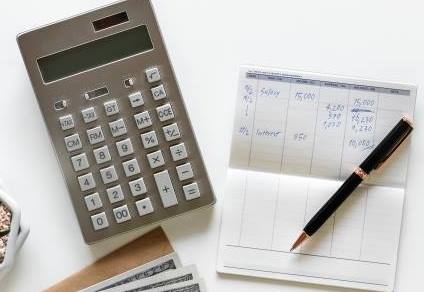 Guide on How to Choose and Get Personal Loans
Do you need cash? You are
not
alone. Most of us have needed cash at some point or other in our financial lives. According to TransUnion, one of the three top credit reporting agencies, personal loans surged to a record high in 2018 and are the fastest-growing U.S. consumer-lending category. The reasons why Americans take out personal loans vary depending on their incomes, family statuses, and circumstances. Recent statistics show that 31% of the Americans took a personal loan for financing a vehicle, 26% took it for paying bills, and 15% for consolidating debt.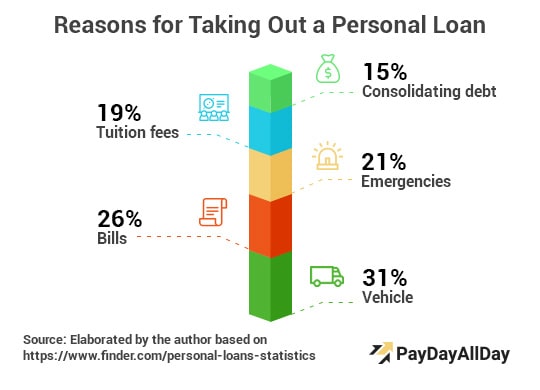 Personal loans in one form or another have been around for a long time. In the past, borrowers who needed money had to turn to a family member, a friend or had to seek out a financial institution that offered fixed-rate personal loans (usually at sky-high interest rates). No longer!
How to Apply?
Online lenders have made applying for personal loans simple, quick and entirely online. You won't even have to leave your house (or take off your bunny slippers)! Most online lenders have a concise application form that you fill out online (and even "sign" online). You will be able to see your interest rate, APR, and the amount of funds almost immediately after applying. Most traditional "brick-and-mortar" banks can give you access to your funds in 24 hours or less. Here is how typical step-by-step online application works:
Enter the amount you want to borrow, the purpose of the loan, and your credit score range.
Enter your name, address, income, and date of birth.
Your identity and creditworthiness will be verified.
Your loan and loan terms will be displayed for you.
Select your loan.
Enter your bank account information. Your bank account will then be authenticated.
Receive your funds!
What Can You Do If Your Application is Rejected?
You did your due diligence and research and found a suitable personal loan from a reputable lender. You carefully and truthfully went through the application process. Then —
Denied
! What should you do now? Take this as a sign that you need to fix your credit or your approach to your finances. First, you need to find out exactly why your loan application was not approved. Enter… the
Equal Credit Opportunity Act
. This act requires lenders to explain why you've been denied a loan. Read the letter carefully and ask questions if something is not clear or confusing. Common reasons for being rejected for a loan include:
A sizeable debt-to-income ratio.
An error on your application or the information on the form is incomplete.
You do not pass the particular lending restrictions for your state.
Short employment history is also a red flag to a potential lender.
If your credit report is incorrect or inaccurate,
file a dispute in writing to the credit bureau
. If you believe that you are a victim of identity theft, let all three significant bureaus know immediately. You should do this in writing, as well, to keep a paper trail.
NOTE:
Your credit report and
credit scores
will be slightly different from each credit bureau. This is common and generally not a concern if the numbers are the same.
What Are the Risks of Personal Loans?
Paying off credit card debt or consolidating credit card debts are the most common reasons for taking out a personal loan. Combining all your debt and credit card payments into one monthly loan payment can be very helpful when doing your financial planning for the month. (Some lenders will let you set your due date. Ask to see if you can get a due date for the personal loan that is at least two days AFTER your paycheck is deposited in your account.) The biggest issue with paying off credit card debt with a personal loan is that you are piling debt upon debt. If you are not sure you can make the new payments for the personal loan, you are putting yourself and your financial health at risk. Cutting it too close is not advisable: first, figure out if you are at risk before you apply for or sign for a loan.
TIP:
Before
you apply for a personal loan to pay off credit card debt, contact the credit card company and see if you can have your interest rate and overall debt lowered.
What is the Term of a Typical Personal Loan?
12 to 60 months is a typical term range for most personal loans. If you need a loan that falls outside that range, shop around. You might be genuinely surprised at the different kinds of arrangements you can find. Don't forget to try local banks and credit unions; sometimes showing up in person can go a long way to get you that loan want.
TIP:
Focus on the total amount of debt you owe, not merely the monthly payment or loan term. Can you pay back the entire loan on time?
What are the Benefits of a Personal Loan?
The main advantage of a personal loan is its lower interest rate, which is often lower than credit card rates (but not always—be sure to check). For example, online lender Lending Club provides personal loans with interest rates that are 31% lower than comparable credit card rates. Many lenders provide
personal loans to people with poor or bad credit
who are either not able to get credit cards or are only offered credit cards with super high-interest rates. It is essential that you apply for only one loan at a time and with one lender at a time.
How do You Compare Personal Loans?
Top Consumer Reviews
rates debt consolidation lenders and compiles a list of the best lenders, with Better Business Bureau ratings and more. The site also has a Compare Products tool that lets you review any two personal loan companies in a head-to-head comparison.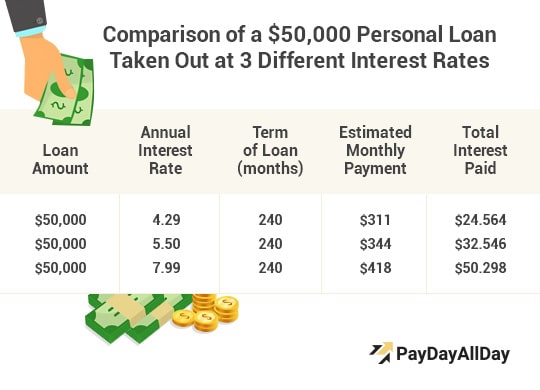 Online lending exchange Lending Tree allows you to compare multiple lender offerings without disclosing your financial information. Only doing so when the customer has decided to apply for the lender that best fits their requirements. Borrowers can also use offers obtained on LendingTree to negotiate directly with lenders; LendingTree provides customers with lenders' direct contact information for that very purpose.
DOs and DON'Ts that Will Make You a PRO at Personal Loans
Follow the DOs and DON'Ts below to make sure you have "dotted your I's and crossed your T's" when it comes to taking out a personal loan. Take as much as you can to do a full review of your options.
| | |
| --- | --- |
| DO… | DON'T… |
| Check all terms and conditions before signing ANY agreement. Make sure that what you were told over the phone matches the wording in the agreement. Research and due diligence when checking out online personal loan lenders, using sites such which list Better Business Bureau (BBB) ratings and other objective reviews. Check your credit report before applying to head off any problems BEFORE you apply. Everything you can to make all your loan payments on time. On-time payments help to improve your credit score; late payments have a very adverse effect on your credit. Check to make sure your payments are being recorded at the three major credit agencies, so you get "full credit" for your responsible borrowing practices. | Go with the first lender you find without looking around and comparing rates and terms. Be tempted to "layer" your debt by tapping into multiple lenders and more than one loan at a time. If rejected for a loan, don't reapply immediately. Take the time to uncover the reasons why you were rejected and work toward fixing them before re-applying. Contact your credit card company to see if you can have your interest rate or debt lowered BEFORE applying for a personal loan to consolidate credit card debt. |
Customer Notice
We strive to provide accurate information regarding personal finance and debt management, but it may not apply to an individual's situation directly. This content is for informational purposes only and should not be considered as financial advice. PayDayAllDay.com won't bear any responsibility in relation to personal decisions made based on it. You should consult your financial or tax advisor before making any financial decisions.

Alice was born and raised in Compton, California. Then she studied at Yuin University, the place where she became passionate about researching the thin ropes between money and meaning. She is insatiably interested in people's potential, wondering why some succeed and others don't. Thus, the articles on her blog explore a multitude of seemingly unconnected things: money, psychology, entrepreneurship, creativity, spirituality, philanthropy, just to name a few.
Help & Support
Legal Information