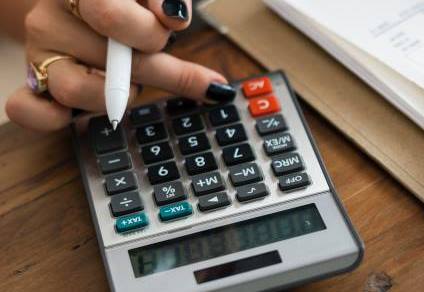 How Payday Loans Work: Real Cost, Rate, Requirements
What are Payday Loans and How do They Work?
At its most basic, a
payday loan
is money that is borrowed using a post-dated check that is cashed on the borrower's next payday, hence the name, "payday loan." In other words, a payday loan is an unsecured personal loan that uses a paycheck or other regular, verifiable income as
collateral
for the loan. A payday loan can also be called a payday advance, salary loan, payroll loan, small-dollar loan, short-term loan, or a cash advance loan. Payday loans typically come due in two weeks (or on the borrower's pay schedule).
What is Required to Become a Payday Loan Borrower?
Payday loans are designed to be easy to obtain and generally have
limited eligibility requirements
.
Basic requirements for every borrower:
Must have an active checking account (and be able to prove it with a recent bank statement),
Must provide proof of income (such as pay stubs),
Must have valid identification,
Must be at least 18 years old.
Military Members
Due to limitations imposed by the
Military Lending Act
, "covered borrowers" — which includes active duty members of the military, their spouses and dependents can not generally take out payday loans.
What About my Credit Score?
Generally, payday lenders do not require you to submit your credit score, and on-time payday loan payments will
not
increase your credit score. However, if you miss payments, pay late, or worse, default on a debt, then a collection entity will most likely report this to the major credit reporting agencies and that would probably affect your credit score adversely.
So, How Payday Loans Work?
Payday Loans work as simple as 1 to 5. Here are the basic steps one should take.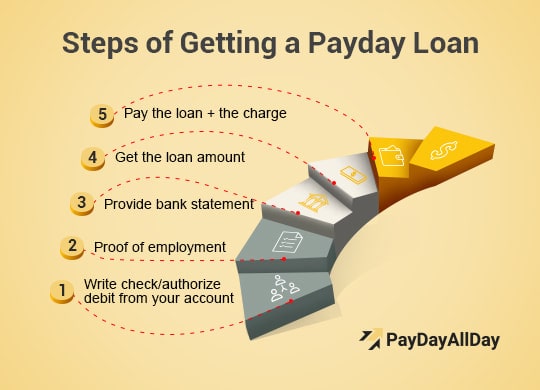 You write a check from your bank account (with a pre-printed name & address) for the amount of the loan plus the lender's fee. Typically, a $15 – $30 fee is charged on a loan of $100. Instead of writing a check, you might also be able to authorize a debit from your account.
Show proof of employment or regular income, age and identification.
Provide your most recent bank statement.
You get the loan amount.
Next payday, you pay the loan amount plus the finance charge.
How to Apply for a Payday Loan?
Payday loans can be obtained online
, in person or even by phone and text. Many payday lenders have an online presence. Googling "payday loans" results in a long list of potential lenders. Be sure to vet each one carefully. Relatively recently, insured institutions (meaning, FDIC-insured banks or credit unions) have ventured into payday lending. Some banks and lending institutions are partnered with companies specializing in payday lending. Others have internal payday lending programs. Also, many banks offer overdraft lending programs that are considered similar to payday lending programs.
How Much Would I Be Able to Borrow?
Loan amounts vary depending on the lender and the income of the borrower. $200 to $300 is the most common amount borrowed. Almost all are less than $500. Many states have laws regarding maximum payday loan amounts. Some states limit the number of outstanding payday loans as a safeguard against dangerous or even perpetual indebtedness, or what is known as a "debt cycle" or "debt trap." Also, it might be tempting to borrow from more than one lender or take out a second or third loan during a trying time.
Don't!
It's not good practice to do this and you can easily get overwhelmed with debt, due dates, different loan terms and more.
How Much Will It Cost?
Payday lenders are notorious for thinking up their unique terminology for necessary fees and services. Be wary of payday lenders who use overly complicated language or terms to describe the loan process and costs, or who change their basic terminology frequently—a tactic usually used to confuse or pressure borrowers. Even Interest on the loan (the amount it costs to get the loan) is also called a Fee, a Finance Charge, or a Flat Fee. A Late Charge (fee charged if you miss a payment due date or your check bounces) is also called a Returned Check. For more terms, see
our glossary
.
How to Calculate the APR for a Payday Loan
To determine the real cost of a loan, you need to calculate the APR (Annual Percentage Rate). The APR is the best way to create a level playing field for comparing loans. Let's say the lender says it will cost $15 to borrow $100 for two weeks.
Calculate the daily interest by dividing the fee ($15) by the loan term (14 days): $15 / 14 = $1.07.
Calculate the yearly interest by multiplying the daily interest ($1.07) by the number of days in a year (365 days): $1.07 x 365 = $390.55 (or 391%)
Here are the results you are expected to get.
| | |
| --- | --- |
| Fee per $100 for 14-day loan | APR* |
| $15 | 391% |
| $17 | 443% |
| $20 | 521% |
| $30 | 782% |
* APR is the cost of the loan expressed as a yearly rate.
Fees, Fees, Fees
Payday loans are risky for you
and
the lender. "Charge off" rates of defaulted loans for payday loans are reported to be as high as 83%. (Charge-off means there is no chance to collect a debt and it is "charged off" the books.) Lenders compensate for their high risk by charging all kinds of fees at each stage of the payday loan process. Each time a loan is rolled over or reborrowed, a renewal fee is charged—and usually at the same rate as previously charged. A new payment term means a new finance charge (which means more money spent to borrow the same amount of money). There may additional fees for renewal of loans besides the renewal fee.
More Fees
If you don't repay the loan on time, you undoubtedly will be charged a late fee, and possibly a returned check fee (depending on the laws of stat state). Your lender may impose a non-sufficient funds (NFS) charge if your check or debit authorization does not go through. There might be fees if your loan is loaded onto a debit card. There could be fees to add the money to the card, fees for checking your balance or calling customer service, and fees each time you use the card. Also, watch for monthly fees have or use the card.
Even More Fees
Funny as it sounds, there might also be a fee for paying the loan off early. Check the terms of your loan to see if there is a charge for paying your loan off ahead of time. Be sure to check the rates and fees
carefully
before you sign for the loan.
TIP:
Do the math! Determine all potential fees you might incur before you sign up. Knowing ahead of time what a loan could cost you will help you decide which loan is truly best for you. For more information on your state's payday loan regulations, see the
CFPB's list of all state banking regulators
.
Ways to Use a Payday Loan Safely
According to one survey, almost 19 million U.S. households have taken out a payday loan at one point or other in their financial lives. Since almost all paydays loans are unsecured loans, you do not have to put up any collateral (real property such as a car or car title) to get the loan, and you have the freedom to choose how and what you spend the money on. That said, usually the most successful payday loans satisfy a
short-term
need—like a sudden car repair, for example. Using a payday loan to pay for regular, recurring needs like rent or food is generally
not
a good idea and should be seen as a financial red flag. Using a payday loan for an impulse buy "for fun" is
not
a good financial move. Read more on payday loans risks and disadvantages here.
The following is a summary of the pros and cons of payday loans:
| | |
| --- | --- |
| PRO (+) | CON (-) |
| Quick, simple to set up and easy to obtain if you meet basic requirements (verifiable income, checking account, ID, age) | Borrowers feel pressured to rush through an application without proper due diligence |
| No credit score required | Credit score is not improved by on-time payments but can be impacted negatively by late or missed payments |
| Can help bridge a short-term cash flow | Creates a cycle of debt |
Debate About Payday Loans: the Practice
Opinions about payday loans and payday lenders vary across the board.
Criticism
Some critics feel that all payday lenders are predatory and unethical. While this is true of some payday lenders, it is just not true of all. The table below shows the cost of a Two-Week Payday Loan for a borrower Earning $35/Year in Gross Income according to a
study
.
| | | | |
| --- | --- | --- | --- |
| Costs Calculation | $0 per $100 ( | $15 per $100 (391% APR) | $20 per $100 (521% APR) |
| Two-Weeks Income (before tax) | $1,346 | $1,346 | $1,346 |
| Net Two-Weeks Income | $1,261 | $1,261 | $1,261 |
| Payday Loan Fee | $0 | $53 | $70 |
| Payment due on $350 (average-sized) payday loan | $350 | $403 | $420 |
| Essential expenditures (Food, Housing, Health, etc.) | $1,073 | $1,073 | $1,073 |
| Money remaining in paycheck after paying payday loan (deficit) | ($162) | ($215) | ($232) |
Other critics admit that payday loans offer an essential outlet for the "unbanked" and "underbanked" population by providing loans to non-prime borrowers who have few or no other banking options. (Unbanked and underbanked refers to people with no or little traditional banking relationships.) Essentially, consumer advocates and many policymakers are concerned that payday loans are not usually used in the way they were designed: to resolve a short-term need, as the image below clearly shows.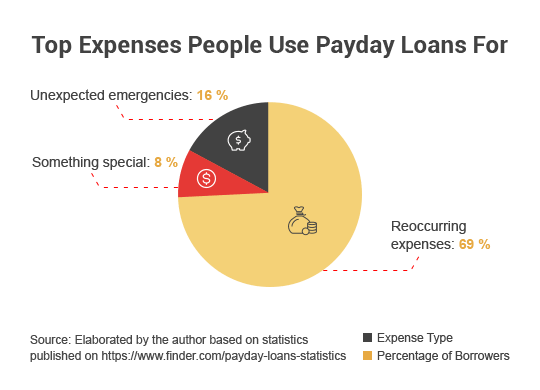 Support
Proponents of payday loans understand that income volatility (unpredictable, seasonal or other ups and downs in income) for non-prime borrowers creates a need for short-term relief in the form of payday loans, title loans or pawnshop loans. Since payday loans are generally unsecured loans, no collateral is at stake. Other proponents of payday loans believe that payday loans satisfy a real need for many people who by no fault of their own may not be making enough income, don't have excellent, reliable job benefits or do not have a guaranteed, stable income, like for example in depicted in the table below.
| | | |
| --- | --- | --- |
| Demographic factor | Highest payday loan usage | Description |
| Age | 25-49 | People ages 25 to 49 are more likely to use payday loans compared to other age groups. Senior citizens ages 70 and older are least likely to use payday loans. |
| Education | No four-year college degree | Those who haven't completed a four-year college education are more likely to take out payday loans. Beyond that, there isn't much difference based on the level of education. |
| Race | African American | African Americans are twice as likely to take out a payday loan than people of other races/ethnicities |
| Income | $15,000 – $25,000 | Those with household incomes less than $40,000/year are almost three times more likely to take out a payday loan than those with higher incomes. People in households making between $15,000 and $25,000/year are the most likely to take out a payday loan. |
| Real Estate | Renter | Renters are more than twice more likely to use payday loans than homeowners. |
| Workplace | Disabled | Those who are disabled or unemployed are more likely to use payday loans than those who are employed. |
| Familial status | Parent | Parents are more likely to use payday loans than those without children. |
| Marital status | Separated or divorced | Those who are separated or divorced are twice as likely to use payday loans than people of any other marital status. |
If Compared to Other Short-Term Solutions
Probably the most persuasive argument
for
payday loans is the comparison of payday loan fees to overdraft fees charged by many banks. An overdraft fee is the cost of borrowing money when you do not have enough in your account. A typical overdraft fee is $34. A recent study from the CFPB found that most overdraft fees are charged on transactions of $24 or less. An
article in Consumerist
quotes a recent CFPB study that found if someone borrowed $24 for three days and paid the average bank overdraft fee of $34, their loan would have the equivalent of an interest rate of 17,000%! The report also found that more than half of consumer checking account income is from overdraft fees—considered by some experts to be the costliest of all banking fees.
If you are struggling to pay…
Be sure to contact the lender
ahead
of your payment due date so that there is time to come up with a possible alternate arrangement. Most lenders would rather work with you to resolve your debt than to have the loan be unpaid or worse, charged off.
Payday Loan Checklist
USE – What is the loan going to be used for? Using the loan for everyday needs like rent, utilities and food are not recommended. Generally speaking, one-time or unpredictable needs like car repairs or medical emergencies are a better use for a payday loan.
COST – Can you afford the loan? Doing a self-inventory of your finances (and future finances) is crucial BEFORE you sign for a loan.
LOOK AHEAD – Calculate all possible charges—"Know Before You Owe" Forewarned is forearmed! Determine all potential fees even if you feel sure you won't be late or need to renew. Read all the fine print associated with your potential loan and don't get caught unaware.
KEEP IT SIMPLE – One loan at a time, and one lender at a time. Do resist the temptation to take out more than one loan or take out loans from different lenders. It's simply not good financial practice. If you have more than one active payday loans, consider consolidating them by rolling them into one loan with one due date. Of course, make sure you can cover the fee for consolidating the loans if there is one!
Customer Notice
We strive to provide accurate information regarding personal finance and debt management, but it may not apply to an individual's situation directly. This content is for informational purposes only and should not be considered as financial advice. PayDayAllDay.com won't bear any responsibility in relation to personal decisions made based on it. You should consult your financial or tax advisor before making any financial decisions.

Alice was born and raised in Compton, California. Then she studied at Yuin University, the place where she became passionate about researching the thin ropes between money and meaning. She is insatiably interested in people's potential, wondering why some succeed and others don't. Thus, the articles on her blog explore a multitude of seemingly unconnected things: money, psychology, entrepreneurship, creativity, spirituality, philanthropy, just to name a few.
Help & Support
Legal Information