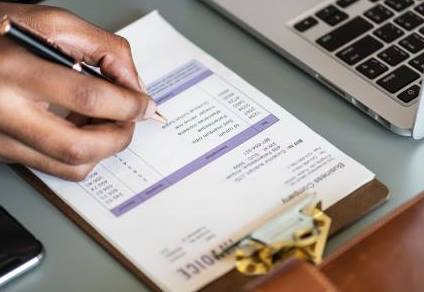 Hard and Soft Pull Credit Check: Detailed Comparison
Before you apply for any loan, you need to understand what a credit check is and how a request for credit or a request to view your
credit score
might impact you, your loan application, and your future interest rate and potential loan payments.
A Primer on How Credit Checks Work
A credit check is called an inquiry. When a lender, landlord or employer asks for (or "inquiries" about) your credit report, the reporting agency captures details about the request, and a summary of the request is posted on your credit report. The kind of information includes the name of the lender, the date of the request, and a code that includes the type of inquiry (mortgage, employment screening, account review, or another request).
Credit Bureaus
Every month, your creditors report how you've managed your payments, and this information is reflected in your credit report.
Credit Reports
are maintained by the three credit bureaus:
Experian,
Equifax,
TransUnion.
A credit check is initiated whenever you request credit from a lender or apply for an apartment or job that requires an examination of your credit report.
Credit Check Types
A hard credit inquiry
is the result of a request for credit and involves a "pull" of your complete credit report. Hard pulls indicate that you're seeking credit and evidence of this request for credit will show on your credit report. Hard pulls typically have only a slightly negative impact on your credit score. An example of a hard pull is a credit card application. Up until recently, signing up for new savings or checking at a bank would not result in the bank doing a hard pull on your credit report, but this is changing.
TIP:
If you want to know whether or not your bank will require a hard pull, check the fine print in the agreement when you open an account.
A soft credit inquiry
returns information about your borrowing history but does NOT return all the information found in your full credit report: it is merely an overview. A soft pull does not signal that you are actively seeking credit. A soft credit inquiry does not affect your credit score and does not require your permission to take place.
| | | |
| --- | --- | --- |
| Type of Inquiry | Also Called | Results From |
| HARD credit inquiry | "Hard pull" | A request for credit |
| SOFT credit inquiry | "Soft pull" | A request to view your credit, not a request for credit |
TIP:
Don't be caught off-guard when applying for that significant loan (typically, you should check your credit report for any errors or omissions at least six months in advance of a significant loan.)
Which Type of Inquiry is Better?
Since a soft credit inquiry does not affect your credit score, it seems to be the better option. But if you are requesting credit, a soft pull will not be enough information for the loan underwriter to assess your borrowing ability. A hard pull does not have a significant impact on your credit score unless you have many hard pulls in a short period, which could signal an inability to pay current loan payments. That said, the reporting agencies take multiple inquiries for the same purpose (home mortgage or car loan, for example) in a short period of time and group them into one inquiry session—which is not as harmful as counting each inquiry separately.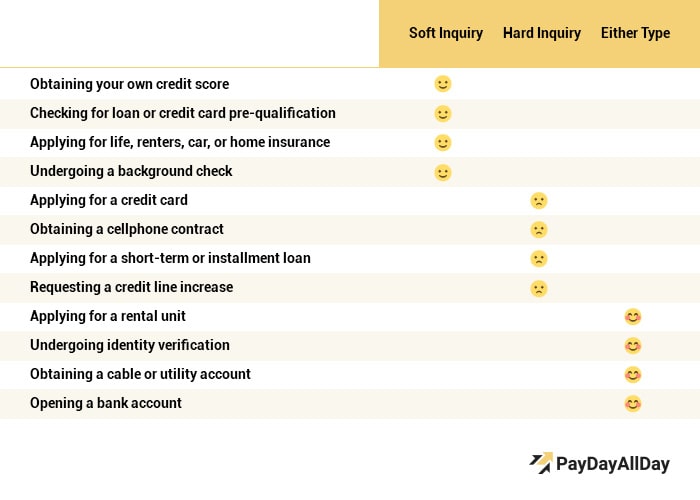 TIP:
Hard credit inquiries that you did
not
request should be seen as a
red flag
. A hard pull you did
not
request could signal an identity thief and should be reported immediately in writing to each of the three reporting agencies.
How Damaging is a Hard Credit Inquiry?
As it turns out, hard credit inquiries actually account for a small percentage of your
FICO Score
(credit score) overall compared to your payment history or the amount of debt you owe. For most people, one additional credit inquiry takes less than five points off their FICO Scores. However, multiple hard credit inquiries within a short period of time, especially for different loan purposes typically have a more detrimental effect on your score.
| | |
| --- | --- |
| Item Type | Time on Credit Report |
| Soft Credit Inquiries | No report impact |
| Hard Credit Inquiries | 24 months |
| Delinquent Payments | 7 years |
| Defaulted Accounts | 7 years |
| Bankruptcy Discharges | 10 years |
TIP:
You may want to "take the hit" and get all of your hard credit inquiries over within a short time if you won't be requesting more credit in the near future.
Analyzing the alternatives
You may be wondering what to do if you do not have an extensive credit report, or haven't used any credit in a long time.
FICO® Score XD
was developed as an alternative credit score to the FICO credit score, for the millions of U.S. consumers who cannot be scored in more traditional ways due to insufficient or stale data in traditional credit bureau files. This alternative score acts as an "on ramp" to the credit highway, providing a different route to mainstream credit. Approximately 64 million Americans do not have the more traditional FICO score. Some online lenders, like SOFI, Kabbage and others are able to offer credit outside of the usual, traditional credit models. If you feel you might fall into this category, you might try looking at these and other non-traditional online lenders for your next loan.
No Credit Check Loans
It is possible to apply for a loan without a credit check of any kind. Some lenders offer a
bad credit loan
that does not require a hard pull, also called a No Credit Check loan. These loans come with a much higher interest rate and should be thoroughly researched.
| | |
| --- | --- |
| Example Costs | Amount |
| Principal Loan Amount | $1,000 |
| Finance Fee Rate | $20 per $100 |
| Total Finance Charge | $200 |
| Loan Duration | 4 weeks |
| Total Repayment Amount | $1,200 |
| Effective APR | 434% |
Payday loans
are examples of a no credit check loan. Be sure to watch out for companies that do not offer a customer service number, or don't ask for basic information like income or ask for collateral, like a car title.
Customer Notice
We strive to provide accurate information regarding personal finance and debt management, but it may not apply to an individual's situation directly. This content is for informational purposes only and should not be considered as financial advice. PayDayAllDay.com won't bear any responsibility in relation to personal decisions made based on it. You should consult your financial or tax advisor before making any financial decisions.

Alice was born and raised in Compton, California. Then she studied at Yuin University, the place where she became passionate about researching the thin ropes between money and meaning. She is insatiably interested in people's potential, wondering why some succeed and others don't. Thus, the articles on her blog explore a multitude of seemingly unconnected things: money, psychology, entrepreneurship, creativity, spirituality, philanthropy, just to name a few.
Help & Support
Legal Information