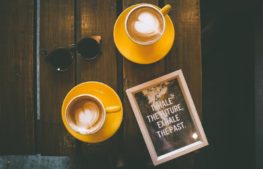 There are a couple of reasons why managing money is important. Firstly, it will help you live within your means while eradicating debt. Secondly, it creates a habit or cycle of saving which allows an individual to begin investing.
Here are seven money habits you can adopt for effective financial management:
Take control over and master your inner thoughts and your words.
Create a spending plan.
Elect to live a simple lifestyle.
Pay off all your debts to live debt-free.
Create a statement of income and expenses.
Write down your financial goals.
Learn how to invest.
1. Your Inner Thoughts and Words
Everything that you create in life starts with your inner thoughts. If you think negative thoughts, they tend to become a reality when you allow them to invade your mind. Turn your focus onto things you want in life so that these are what becomes reality.
The same with negative words. You are sending yourself the wrong message when you say "I can't afford it" or "I will never be rich."
It might sound corny, but the universe responds to positive words and thoughts. From now on, replace all your negative words and ideas into something positive. You can be rich and live a great life. Believe it!
2. Create a Spending Plan
This is merely a plan on how you will spend and save your money. The word 'budget' has implications of restraint and fewer choices in life. If you call it a 'spending plan' it shows you have control of your finances.
Track your money and account for every cent you spend. Set your spending priorities so that they are in the order of importance to you. Do NOT spend more than you earn and save at least 10% of your salary for investment.
You should break the plan up to cover a month, and a long-term one to include a year. Some expenses such as home renovations need more extended periods to plan. Also, improvements may be managed by taking out a personal loan and making fixed, monthly repayments that fit in with your spending plan.
3. Elect to Live a Simple Lifestyle
If you want less stress, live a simple life. Is it necessary that you have an expensive car and dine out at favorite restaurants? Drink a coffee at home each morning, not at Starbucks. Don't spend money on branded clothing.
When you are earning a good income, and your spending plan is working beautifully, then you can treat yourself to these luxuries. It makes no sense if you're struggling. Think hard about your lifestyle and spending habits.
4. Pay off your Debts to Live Debt Free
Paying the minimum on your credit card each month is a bad habit. If you have a massive credit card bill, pay it off quickly or else the interest rate will have you paying a lot more than the original amount.
If you have to take out a loan for an emergency or a significant expense, look for the best interest rate possible and pay off the loan as quickly as possible.
5. Create a Statement of Income and Expenses
If you think a balance sheet and income statement are financial reports for business only – you're wrong. Everybody should make one of these, so they know their net worth. Having a high income does not necessarily mean you have a positive net worth.
Your net worth is the total of all your assets like cash, investments, car, and properties minus your liabilities such as loans. An individual may have a lot of assets but can still be struggling because they can't consistently pay back loans. Aim for your liabilities being no higher than 40% of the value of what you own.
6. Write Down your Financial Goals
If you have no goals then you have nothing for which to aim. "I want to be rich" has no meaning. Specify the exact amount and the date by which you want to achieve this amount. What income do you want? How much do you want to have in the bank within 5 years? What net worth do you want to have in 5 years? Write all these figures down and look at them daily.
7. Learn How to Invest
Bank interest on your savings will never make you productive. It would be nice to earn 15% – 20% on your investments annually. Read up on the stock market, hone your skills. Learn about residential property investments.
These are long term investments and will require knowledge for you to utilise them for your wealth creation. Build your knowledge in this direction, attend seminars, read books, and follow successful mentors.
The above seven steps on how to effectively manage your money start with your positive thoughts which should lead to affirmative action. It's not about living like a pauper and living a hard life. It's about providing you with choices and rich experiences.
You will be pleasantly surprised when you have aligned thoughts and words with your life goals, and at the difference, it will make.